Mara Clara (2010 TV Series)

Title Card
Show Information
Genre
Family Drama
Director
Jerome Chavez Pobocan
Claudio "Tots" Sanchez-Mariscal IV
Writer(s)
Emil Cruz Jr.
Language
Tagalog, English
Original Run
October 25, 2010 – June 3, 2011
Mara Clara is a Philippine television drama which aired on ABS-CBN from October 25, 2010 to June 3, 2011, replacing 1DOL. It is a remake based on the 1992 original television series of same title. It was also in celebration of the 60 Years Of Philippine Soap Opera year end offering.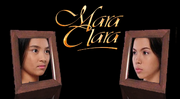 Mara and Clara, both born on the same day, were switched after birth by Karlo David, Gary David's young brother who was working at the hospital, where Mara and Clara were born, as a janitor. Though, it is noted that Karlo was only following Gary's orders and lived a life of guilt, knowing that he deprived Mara of her real parents. Mara lived as the poor daughter of the couple Susan and Gary David, and Clara, their real daughter, was brought up by the rich Amanthe and Alvira del Valle. The good-natured del Valle couple takes in Mara as a servant and decides to spend for her education not knowing that she is their real daughter. Clara makes life for Mara difficult. But, as time progresses, they found their true identity in the spotlight. The two children find it hard to accept the truth. The del Valle couple swear to fight to keep Clara and also take back Mara, so does Susan promise to not give up Mara but a court verdict orders both children to be returned to their real parents. Clara then develops much more hatred for Mara blaming her for stealing her popularity in school, Christian, and eventually her parents and vows to make her life more miserable.
Main cast
Edit
Supporting cast
Edit
Extended cast
Edit
Special participation
Edit
Kimberly Fulgar - young Mara
Christine Joy de Guzman - young Clara